By Becky Morton
Political reporter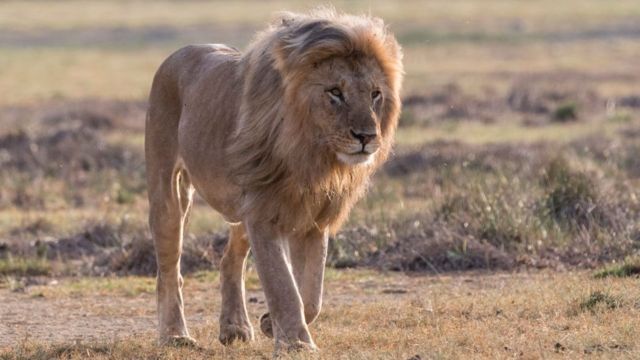 Plans to ban imports of animal hunting trophies to Great Britain are set to become law.
The government has backed legislation which would stop hunters bringing back body parts of thousands of species, including lions, rhinos, elephants and polar bears, killed abroad.
Tory MP Henry Smith, who proposed the bill, said it would help conserve the world's most endangered species.
It was approved by MPs and will now face further scrutiny in the Lords.
As it has the support of the government, the Hunting Trophies (Import Prohibition) Bill is likely to become law.
Every year, hunters from the UK travel abroad, often to southern Africa, and pay thousands of pounds to legally shoot animals, such as lions and elephants.
Under current rules, with the right paperwork, they can then bring trophies, such as stuffed heads or horns, back to the UK.
Campaigners backing the bill had feared it could be blocked after more than 30 amendments were tabled by two Conservative MPs, Sir Christopher Chope and Sir Bill Wiggin.
However, after the government accepted two of their proposals – to establish an advisory board on hunting trophies and to limit the power of the secretary of state to add new species to the list the ban would apply to – the pair dropped their other demands for further changes to the bill.
Critics of the plans have argued that profits from hunting are used to pay for conservation projects in African countries and can ultimately help to protect endangered species.
Sir Bill, the Tory MP for North Herefordshire, told the Commons there were concerns that removing the revenue supplied by trophy hunters could "open the floodgate to poachers, who will cause far more cruelty and pain to the animals and will pose a far greater threat to endangered species".
However, animal welfare charities have rejected this, arguing that hardly any of the revenues from trophy hunting ever reach local communities.
Environment Minister Trudy Harrison told MPs: "I do recognise that some of the income from trophy hunting has contributed towards the protection of habitat and the prevention of poaching.
"But to bring [back] the body parts of endangered species… is not the way forward."
Sir Bill also suggested the legislation was a "a neo-colonial attempt to control conservation management programmes of African democratic countries".
This was denied by Mr Smith, who insisted: "This is about the values that we in Britain have, that we do not want to be part of a trade in endangered species' body parts.
"We are not telling other countries how to run their trade, or their conservation or hunting policies."
Some MPs, including the Democratic Unionist Party's Sammy Wilson, also raised concerns Northern Ireland could become a "back door" for hunting imports as the law would not apply there.
Ms Harrison said the government would do "everything we possibly can" to ensure Northern Ireland was not a "stepping stone for imports to Great Britain".
Ban on imports of animal hunting trophies set to become law